Expert Pest Control in Sydney
Wasp? Cockroach? Rodent? Ant? Leave Them All to Tom's Pest Control.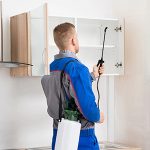 The Most Affordable Pest Control Service In Sydney
Professional Pest Control Services In Sydney
Are you searching for the best pest control in Sydney that is both effective and reasonably priced? Have you been looking for an experienced and trustworthy company that provides a pest control treatment and great value for money?
You can always count on getting the best pest control in Sydney with Tom's Pest Control. Our company has provided pest control treatment all across Sydney that has helped countless individuals and businesses. Whether your property has become infested or if you need assistance with any type of pest control requirement, our experienced and affordable pest control specialists can help.
Protecting Your Health And Property
Unfortunately, Sydney properties have a high risk of becoming infested by pests due to the area's climate and location. Regardless of if you live in an urban, coastal, or outer region, pests are everywhere.
But don't fret too much; our professional pest control experts are available to carry out thorough pest and termite inspections in all of these locations. We are available to travel to the CBD, inner suburbs like Newtown, Surry Hills, and Ultimo, coastal areas like Bondi, Manly, and Coogee, and outer Sydney areas such as Penrith, Blacktown, Rooty Hill, and anywhere else in Sydney.
Our team will search under your house, look inside the roof, in-between your walls, and elsewhere, to find the pests and eradicate them.
Commercial Pest Control
Tom's Pest Control can provide commercial pest control jobs for all industries. Regardless of what type of business you operate, you can rely on the best pest control Sydney has to offer to prevent pests from further affecting your business.
Construction Pest Control
Tom's Pest Control are Sydney's leading installers of pre-construction termite management systems. We work with builders to deliver termite prevention services to the construction sector.
Domestic Pest Control
Tom's Pest Control provide a friendly and professional pest control services for residential clients all across Sydney. We will remove any pests found in your home by using ecologically sound products and methods.
You Have Questions, We Have Answers
Don't hesitate to ask us, just leave an email here, or give us a call. Or search hundreds of questions from people just like you for your answer. We're always glad to hear from you and will give you guidance to solve your pest problems.
Identify Your Pest
Trying to describe pests over the phone or via email can be difficult. Correctly identifying your pest makes controlling them easier and often more effective. Our pest library will help you to find out.
Way To Control Your Pest
There are many options for controlling pests and many of these options are tailored to specific pests or problems that we can accomplish with effective pest control treatment.
Contact Our Exterminators Today!
For an obligation-free quote or to discuss your pest control requirements, call our friendly and experienced exterminators today on
(02) 8073 9252
. Covering all of Sydney, our same day pest control services will solve your pest problems.