Professional Wasp Control Services In Sydney
Have you seen some wasp nests in or around your property? Are you looking for professional wasp control services in Sydney that will ensure that these nests are removed safely?
If so, you can rely on our first-rate wasp pest control services in Sydney. The team at Tom's Pest Control have many years of experience in implementing safe pest infestation services to eliminate all types of insects from both homes and commercial spaces.
Regardless of how big the wasp nests are and how bad the infestation is, we are able to safely remove these wasps from your property.
List Of Australian Wasps
There are many types of wasps and bees living in Australia. In fact, Australia has 12,000 wasp species! However, only some of these species would settle near a human habitat or pose a health risk to people. Below is a list of some of the most common bee and wasp species in Australia that you might find living on your land:
English wasps and European wasps are the most common species that infest properties. Unfortunately, they are all notorious for how painful their stings can feel. So, stay away from them and get one of our exterminators to remove them for you.
Why Wasp Extermination Is Essential
You should contact a professional wasp treatment service provider once you have spotted any wasp nests in your yard or near your building.
It cannot be stressed enough times that an unqualified person should never, under any circumstances, try to do perform any type of wasp nest removal work. They will not have the correct equipment nor the experience to safely do so. As these pests are highly unpredictable in how they will act, getting professional help is the best course of action.
If you are concerned about your infestation, as you should be, call Tom's Pest Control as soon as possible. Our skilled exterminators use wasp suits and advanced industry-standard equipment to protect your property and the surrounding area safe from wasps.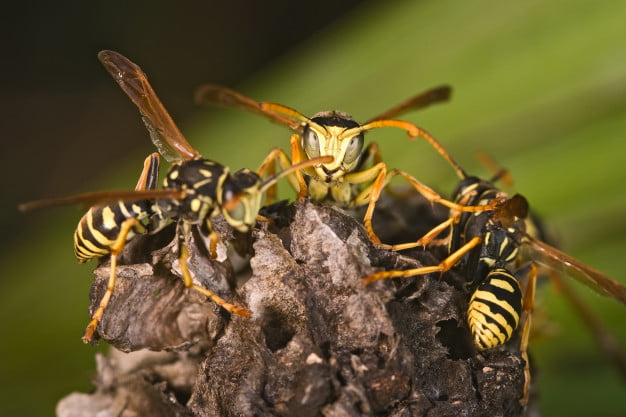 The Treatment
Tom's Pest Control has provided a lot of wasp pest control work for homeowners and businesses across Sydney. The four-stage process we put into action includes a comprehensive inspection, a customised treatment plan, exterminating every insect we find, and utilising various ongoing maintenance tips.
Inspection
Right after you contact us about your property's wasp infestation, our certified wasp pest control technicians will drive to your property and conduct their inspection. The inspection is done to find out what type of wasps are living on your property, the degree of the infestation, how dangerous these wasps are, and other information.
We will also try to determine what factors cause these wasps to build their nest near your property to start with. By doing so, we can try to prevent any more wasps from choosing your land as their new home.
Treatment Plan
Based on what information is ascertained from the inspection, we will make a treatment plan that will ensure that you receive the safest wasp nest removal available. The treatment plan will detail what type of treatment will be needed, the expected outcome, the length of the treatment, if there is any need for further work, and any instructions that your family or staff members should keep in mind.
We will explain this treatment plan to you in great detail before we commence doing our work. We want to ensure that you get transparent, hassle-free service.
Extermination Process
Our certified wasp control consultants will follow their treatment plan to do their work extermination. We use chemical sprays and insecticides, but we do prefer to use non-chemical methods when possible to remove any wasps from your property. We may apply a mix of these procedures if the infestation level is particularly bad.
Tom's Pest Control always puts the health and wellbeing of our customers first. Therefore, we only use industry-approved chemical sprays and products.
Ongoing Prevention
Exterminating the wasp nests on your property is only one part of the job. We will find out what attracted the wasps to your property to begin with and remove whatever that is. This is why we provide our customers with tips and tricks that keep the layout of your property in mind in order to reduce the possibility of another wasp infestation from happening.
The below tips can help you decrease the likelihood of reinfestation:
Discourage wasps from entering your land by removing any foods scraps or fruit that's fallen out of one of your trees.
Do not leave pet food outside for long.
Tightly cover your rubbish dustbins with lids.
Make sure that any exposed food or compost is properly covered.
Keep the swimming pool covered when no one is using it.
Properly maintain your yard by trimming the shrubs and trees, and also by mowing the grass.
Keep your eyes out for any sign of wasp infestation.
Why Tom's Pest Control?
Tom's Pest Control have made a great difference to the state of our customer's land, as well as their own wellbeing, with our services. We hold ourselves up to a high standard, meaning that our services will meet your requirements for the following reasons: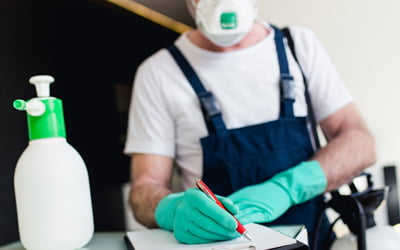 Secure Your Space Today
Call us today on
(02) 8073 9252
or use our contact form to give us as many details about your wasp issues as possible. We will give you an obligation-free quote that will lead to an exceptional wasp control service.